Graduate Student Wins Award At 2015 SACNAS National Conference\
Nov. 12, 2015
The UC Merced Graduate Division is pleased to congratulate Applied Mathematics graduate student Mario Banuelos, who won the certificate for Best Graduate Oral Presentation in Applied Mathematics at the 2015 Society for Advancement of Chicanos/Hispanics and Native Americans in Science (SACNAS) National Conference in Washington, DC late last month.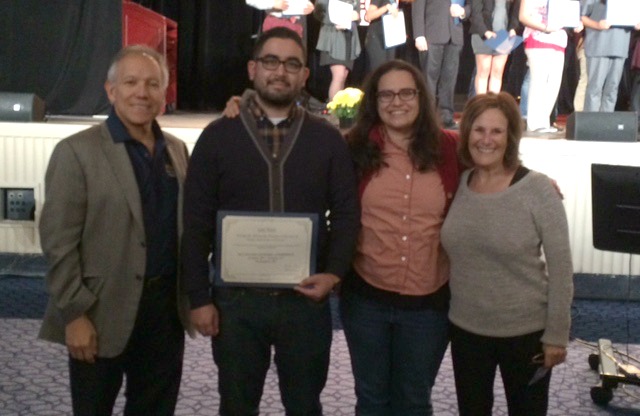 "I was thrilled to see UC Merced make such a strong showing at SACNAS this year, and proud to have one of our graduate students recognized in this way," Vice Provost and Graduate Dean Marjorie Zatz said.
Banuelos is a second year student who works with Professor Suzanne Sindi. His presentation was titled "Modeling Size Distribution of Transposable Elements with Fragmentation Equations."
Both Banuelos and Sindi joined the UC Merced delegation of SACNAS 2015 attendees that included Zatz and School of Natural Sciences Dean Juan Meza.
"Our student's successes this year at SACNAS reflect UC Merced's commitment to research excellence through diversity," said Meza. "In addition to Mario's award, two of our undergraduate researchers won awards, and our student chapter was recognized for mentorship."
Banuelos also joined Graduate Recruitment, Retention and Outreach Manager Iqbal Atwal at the UC Merced recruitment table during the conference to act as a graduate student ambassador to undergraduates who were interested in pursuing advanced degrees.