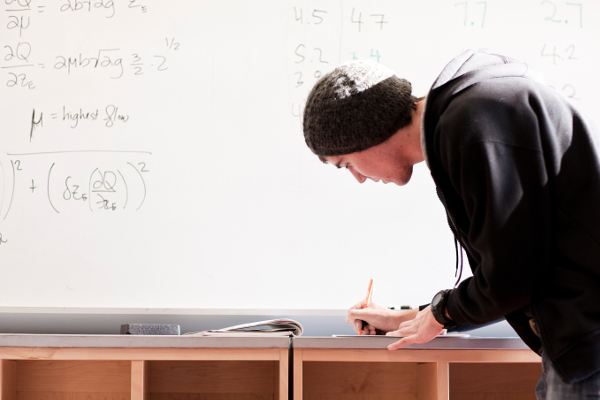 In order to become eligible to advance to candidacy for the doctoral degree, students must pass a Qualifying Examination wherein they demonstrate a high level of scholarship and a promising research focus.
---
The oral qualifying exam tests the breadth of a student's comprehension of fundamental facts and principles that apply to their major field of study and their ability to think critically about the theoretical and practical aspects of the field. Though focused on the student's field of research, the exam may and should venture into other areas of scholarship that underlie or impinge on the research topic. The exam consists of two parts: 1) a written research proposal to be submitted to the dissertation committee at least four weeks prior to the exam date arranged by the student and committee chair, and 2) an oral exam conducted by the dissertation committee. 
In order to apply to take the Qualifying Exam, students must first complete their group's advancement requirements. Each program requires students to pass the qualifying exam within a particular timeframe:
Applied Math: To apply, successfully complete preliminary examinations and core coursework (may be currently enrolled in MATH 224 and/or MATH 233). Must pass exam by the sixth semester after admission.
Chemistry & Biochemistry: To apply, successfully complete preliminary examination and at least three of the required non-seminar graduate courses. Must pass exam during second year of study.
Physics: To apply, successfully complete preliminary examinations and the four core courses. Must pass exam before end of third year of study.
QSB: To apply, successfully complete all course requirements. Must pass exam during second year of study.
If a student does not pass, the exam may be repeated once after a predetermined amount of preparation time. Students may petition the Educational Policy Committee for exceptions (e.g. exam date, number of attempts).
Qualifying Exam Preparation:The following information is being provided to graduate students and their advisors as a general guide for qualifying exam preparation. Please use this guide in combination with consultation with your faculty advisor, all of the members of your committee and the committee chair. Doctoral students in a myriad of programs are united by the common thread of facing the qualifying exam. For many graduate students this is one of the most uncertain, stressful, and time-consuming aspects of their graduate education. This exam may include a written component in addition to the oral component and follows a format according to the specific requirement of the graduate program.
Although the content and structure of qualifying examinations varies by graduate program, this information focuses on universal "strategies for success" that will be valuable to graduate students in all programs. This information will help to demystify the qualifying exam, empower graduate students with the skills and strategies, feel confident and prepared when the time comes for their exam. In addition, this information is a resource for graduate student advisors to better achieve their mentoring goals. The following are the "Five Golden Rules" of qualifying exam preparation.
Understand the qualifying exam.
Know your examiners.
Prepare early.
Reduce your stress.
Have an exam day plan.
Students who follow these "golden rules", in combination with close consultation with their advisor and committee members, will be superbly prepared for success on their qualifying exam. So, where and when do you start? Ideally you should start with golden rule #1 about six months before your qualifying exam. However, graduate students often begin preparation three or fewer months in advance may also have good success.
The gathered information was part of UC Davis Graduate Studies website.
Qualifying Exam Paperwork
A month before the qualifying exam, the student will send the committee a research proposal and complete the Application for Qualifying Exam. 
At the exam, the student will need to bring a copy of the Qualifying Exam Report for the committee to sign after the exam. All forms will go directly to Graduate Division located in SSB 310.
Once the student has passed the qualifying exam and completed the above forms, the student must contact their Graduate Coordinator to complete the Advancement to Candidacy.