Since opening in 2005, UC Merced has advanced the UC system's rich heritage in a fast-growing region, improved levels of educational attainment and quality of life while conducting life-changing research into society's most challenging problems.
With demand for the UC system increasing, development of new facilities is critical to UC Merced's success and to the University of California's ability to provide access to eligible students.
The 1.2 million GSF project is being designed and built in three phases between 2016 and 2020. The project is being implemented as a master planned initiative developed by a world-class team of architects, planners, engineers and construction professionals. The design and construction budget is $1.3 billion and includes 13 buildings and supporting infrastructure. Click here to download the Project Map (PDF)
Designed for Academic Distinction
Three new wet and dry laboratories will anchor the new Academic Quad and will be connected by a bridge to the existing campus.
The buildings will incorporate a flexible plan that accommodates multiple laboratory configurations; programmatic and circulation elements that encourage a sense of community; and a robust, durable, and efficient superstructure.
The primary exterior building materials are designed to be cost-effective and long-lasting, in keeping with architectural expression of the research laboratories from UC Merced's original academic and infrastructure buildings. As in those initial buildings, the honest, familiar materials reflect the agricultural roots of the Central Valley, but they are employed in service of the functional needs of the building.
Learn more about the new academic facilities.
Fall 2018: First Delivery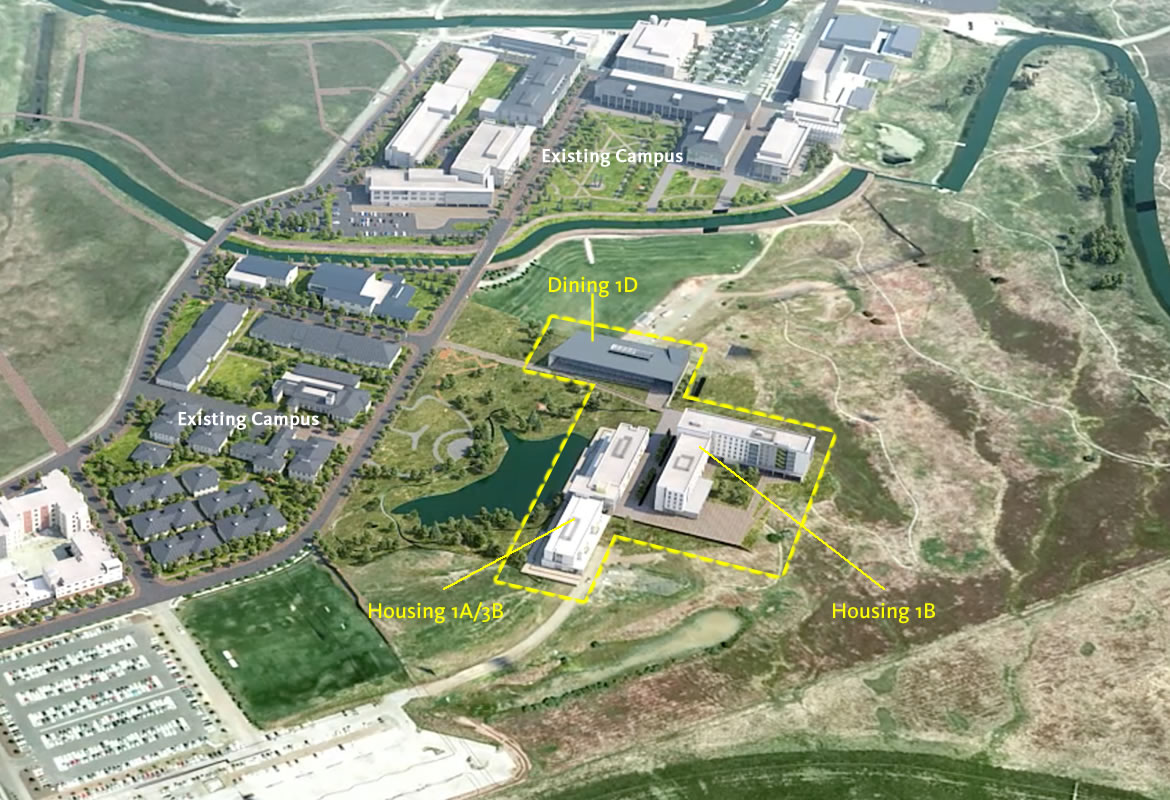 "First Delivery" includes 700 new student beds, a 600-seat multipurpose dining facility, new classrooms and 940 new parking spaces. Click here for the latest construction updates
Housing 1A/3B: A student residence hall that includes student life space and classrooms designed by Page Southerland Page.
Housing 1B: A student residence hall that includes residential community space and classrooms designed by Mahlum Architects.
Dining 1D: A multipurpose 600-seat dining facility, and two additional private dining rooms (75 seats and 20 seats) designed by SOM.
Loading Dock 1H: An "underground" shared services loading facility for four buildings designed by SOM.
The Merced 2020 campus expansion represents a commitment by the State of California and the University of California to increase access to the UC system for eligible state students and to support a rapidly growing region. The expansion project is a key element of Merced's vision.